A late Eddie Allen Point sees Newmarket retain their JBHC title after extra time, with the scoreboard showing Newmarket 1-21, Meelin 3-14. The game was played September 2nd in Freemount.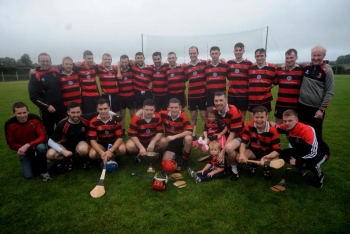 The game started slowly with either side unable to find a rhythm. Meelin opened proceedings which was quickly cancelled out with a free from Verling. Verling hit another free before Meelin hit three unanswered points, as they lead by two points after 21 minutes. Kenneally and Verling levelled matters before Cottrell, who recently returned from the US, hit two great scores to put Newmarket two in front. Another Verling free, just before the break, left the scoreboard showing Newmaket 0-07, Meelin 0-05 at half time.
Verling opened proceedings of the second half with another free before Murphy had a goal chance saved by the Meelin keeper. Newmarket pushed further ahead with points from O'Sullivan, Kenneally and Stack, leaving Newmarket ahead by 5 points with 10 minutes remaining. With some All Ireland club winners in their side, Meelin never panicked and on the fifty first minute had the ball in the back of the Newmarket net. Meelin with the momentum now had another great goal chance saved by the Newmarket goalkeeper. With three minutes remaining sharp shooter Verling put Newmarket two ahead. Meelin knew a goal was needed and with a minute remaining managed to find the back of the net and then quickly returned the Newmarket puck out back over the bar. Newmarket now trailed by two points hitting the sixty minute mark. A Verling point left one between the sides, before some good running off the ball saw Kenneally level matters with the final puck of the ball, Newmarket 0-16, Meelin 2-10.
Meelin had the opening chance of extra time only to be denied by goalkeeper Shane McAuliffe. The teams traded scores in the opening moments before target man O'Sullivan had the ball in the back of the Meelin net. Another Verling free just before the break, had Newmarket leading on a scoreline of 1-19 to 2-12 at half time in extra time.
The game quickly changed again at the start of the second half, as Meelin had the ball in the back of the Newmarket net. With momentum on Meelin's side, they added another two unanswered points to put them one ahead with less than five minutes remaining. Cottrell levelled matters on the stroke of full time before Eddie Allen managed to get on the end of a nice piece of play to hit the last score of the match. At the final whistle it was a single point victory and back to back titles for the Junior Bs of Newmarket.
The Newmarket team and scorers…
Paul Verling (0-10, 8F), Colin O'Sullivan (1-02), Michael Kenneally (0-02), Michael Cottrell (0-04), Brendan Stack (0-01), Eddie Allen (0-01), Sean Meehan (0-01)
Shane McAuliffe
John Scanlon
Robert Stack
Aaron O' Callaghan
Daniel Norton
Brendan Stack
Josh O'Keeffe
Eddie Allen
Sean Meehan
Jonathan Flaherty
Michael Cottrell
Michael Kenneally
Shane Murphy
Colin O'Sullivan
Paul Verling
Subs: Nicky Barrett, Michael O'Leary, Billy Lane