Original Report: The Corkman, Friday, November 20th, 1998.
By John Joe Brosnan.
Newmarket to face Brian Dillons again after disappointing junior football draw
NEWMARKET and Brian Dillons will have to meet again this Sunday in Kilmurry in the replay of the Co JAFC semi-final.
On Sunday last in dramatic circumstances Brian Dillons, with a late rally, forced the equalising point that has now led to next Sunday's replay and the postponement of the final. The game never reached the heights expected and the number of wides kicked by both sides was enormous when one considers there was no wind. The game was played in dry, calm, heavy conditions.
From the outset the City side gained control at midfield where Tom Fitzgerald and John Crowley were to do very well. Paul Triggs opened the scoring for Brian Dillons with a first minute pointed free. Two minutes later a Danny Culloty free to Mark O'Sullivan was narrowly wide. From the kickout, Alan Whelan made a good run combining with Donough McCarthy who kicked deep to Maurice Carey who was fouled on the 21 line mark. James Horgan pointed the resultant free.
Newmarket fought back well and a good passing movement by Danny Cullolty and Michael Cottrell led to a foul with Mark O'Sulliivan pointed the resultant free. Newmarket now looked sharp cutting through the Brian Dillons defense but lacking finish. Denis O'Brien and John Fitzpatrick set up Mark O'Sullivan who kicked wide in the eighth minute.
At the other end a foul on John Crowley led to a free by James Horgan that also went narrowly wide. Newmarket were unlucky two minutes later when a high ball by Michael Cottrell came back off the crossbar and was cleared to safety.
Continuous pressure in the 13th minute led to a goal when Michael Cottrell and O'Sullivan combined to set up the inrushing John Paul O'Neill whose kick found its way to the net off the keeper Brian Allen, 1-1 to 0-2. Donough McCarthy had a bad wide for Brian Dillons at the end of the first quarter.
Good work by the impressive Brendan Deane and Richard O'Callaghan led to Paul O'Brien kicking wide for the City side. Brian Dillons continued to attack up front and a good pass by Tom Fitzgerald to Maurice Carey could have resulted in a goal before he was brought down. The resultant free by Paul Triggs dropped short and was cleared by James Morgan in goal. Brian Dillons pointed in the 21st minute when Tom Fitzgerald kicked a long range free between the posts, 1-1 to 0-3.
Newmarket responded with Denis O'Brien and Mark O'Sullivan in a good run with O'Sullivan giving the return pass to O'Brien who punched wide from close range. John Paul O'Neill was also wide for Newmarket before Danny Culloty found Mark O'Sullivan well placed. However, O'Sullivan's attempt at goal was well saved by the brilliant Brian Allen and the rebound went to John P O'Neill whose attempt was expertly saved in a reflex manner by Allen. Further pressure led to Michael Cottrell kicking wide.
In the 25th minute a good solo run by Derek Whelan to the impressive Maurice Carey went wide. Newmarket had another wide before John Cronin forced Brian Allen to make another great save. Brian Dillons in an attempt to force level before half time had two late wides while Mark O'Sullivan was also off target with a Newmarket free. At the break Newmarket led 1-1 to 0-3.
During the first half the city side had failed to score from play, while Newmarket's goal was the only score from play in the opening 30 minutes. Newmarket looked good on the changeover. However their attack continued to be off target. Mark O'Sullivan kicked two early wides before pointing in the 33rd minute. John P O'Neill set up John Cronin who kicked wide in the 35th minute. At the other end a foul on Richard O'Callaghan led to a free which was also wide by Paul Triggs.
Tom Fitzgerald and Danny Culloty both kicked a wide each from frees before Mark O'Sullivan in the 40th minute punched point after the Brian Dillons keeper made a good interception denying the Newmarket side a certain goal, 1-3 to 0-3.
In the 42nd minute a foul on James Horgan led to Brian Dillons penalty. Paul Triggs well taken kick to the right corner gave the keeper no chance, 1-3 each Dillons had still not scored from play. Maurice Carey had a chance of putting the city side ahead but was narrowly wide.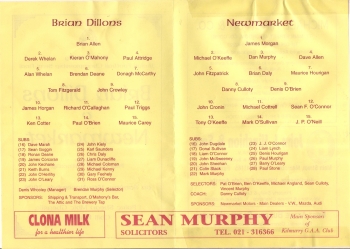 They did go ahead in the 45th minute when Paul O'Brien set up James Horgan for a well taken point. This was their first score from play. A great movement started in defence by Kieran O'Mahony, Brendan Deane, Paul Triggs, Tom Fitzgerald and Ken Cotter led to Maurice Carey being narrowly wide. Newmarket moved John P O'Neill to the half line and he created a number of chances for the Duhallow side. A foul on Mark O'Sullivan after being well placed by Brian Daly led to the equaliser, a pointed free by O'Sullivan, 1-4 each in the 48th minute.
Newmarket now gained the initiative and a good movement started by Mark O'Sullivan, Danny Culloty and John P O'Neill led to Brian Allen making another fine save in the 52nd minute. Mark O'Sullivan restored the lead for the Duhallow side when sending over a long range free. Soon after O'Sullivan and John Cronin were to combine for Denis O'Brien to kick an excellent point, 1-6 to 1-4.
At this stage Newmarket seemed destined for the final, doing well in all sectors. However their finish let them down. A good atempt at a point by John Fitzpatrick was narrowly wide. This score was disputed by Danny Culloty who was booked by the referee on being called by the umpire. Culloty was sent to the line.
There were four minutes remaining. Brian Dillons recovered well as Newmarket were shell shocked and they were unlucky kicking two wides by Maurice Carey. and Tom Fitzgerald. Maurice Carey cut the lead to a point in the 59th minute.
In injury time a great movement by Brian Allen, Kieran O'Mahony, Alan Whelan, Tom Fitzgerald, Maurice Carey led to Paul Triggs attempt being forced out for a 45. The resultant 45 by Tom Fitzgerald was saved by James Morgan. Deep in injury time in a last gasp effort Tom Fitzgerald and Derek Whelan combined for John Crowley to kick the all important point that forced the replay.
Best for Newmarket were James Morgan, Denis O'Brien, John Cronin, Michael Cottrell, Mark O'Sullivan and John P O'Neill.
For Brian Dillons Brian Allen, Brendan Deane, Tom Fitzgerald, John Crowley, James Horgan, Paul Triggs and the industrious Maurice Casey were best.
The match was played on 15th of November in Kilmurry, Final score was Newmarket 1-06 to Brian Dillons 1-06. The team on the day was as follows:
James Morgan
Michael O'Keeffe
Dan Murphy
Dave Allen
John Fitzpatrick
Brian Daly
Maurice Hourigan
Danny Culloty
Denys O'Brien (0-1)
John Cronin
Michael Cottrell
Sean Francis O'Connor
Tony O'Keeffe
John Paul O'Neill (1-0) Capt.
Mark O'Sullivan (0-5, 0-3 frees)
Subs: John Sheehan.
Brian Dillons – B Allen, D whelan, K O'Mahony, P Attridge, A Whelan, B Deane, D McCarthy, T Fitzgerald, J Crowley, J Horgan, R O'Callaghan, P Triggs, K Cotter, P O'Brien, M Carey, Sub: J Corcoran for P O'Brien, S Googin for D McCarthy.
Scorers for Brian Dillons: P. Triggs 1-1 (1-0 penalty, 0-1 free), J. Horgan 0-2 (0-1 free), T. Fitzgerald, J. Crowley, M. Carey 0-1 each.
Referee – Paul Higgins, Ballincollig.