Original Report: The Corkman, Friday, November 27th, 1998.
By John Joe Brosnan.
First half avalanche of scores scupper Brian Dillons' hopes in county junior football semi-final replay.
A marvelous first-half display set Newmarket firmly on course for an impressive victory over Brian Dillon's, the city champions, in the replay of their junior football championship semi-final at Kilmurry on Sunday.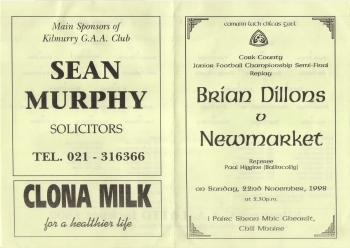 Turning over with a ten point lead (1-8 to 0-1), the Duhallow champions never looked like being caught afterwards, but they had to put in a mighty effort to keep a rejuvenated Brian Dillon's side at bay.
The extent of which the trend of play changed is illustrated by the fact that Newmarket only added a point to their half-time tally while Brian Dillon's scored five points at the other end.
A big half-time lead is not an unmitigated blessing, for it induces a defensive attitude, while the team that has fallen heavily in arrears, with nothing to lose, will gain in confidence with every inroad they can make into the lead.
This was the situation in the second half of Sunday's game. After being totally outplayed in the first half, Brian Dillon's snapped the initiative after the resumption and put the Newmarket backs under great pressure at times.
But luckily for Newmarket they were able to soak up the pressure and able to limit the Brian Dillon's scoring rate to such an extent that the margin did not fall below seven points until the game had entered into injury time.
Without doubt, a goal would have given an enormous boost to the Brian Dillon's effort, to come seriously into contention, and the fact that it never materialized, was a tribute to the Newmarket backs, and especially to goalkeeper James Morgan, who brought off a marvellous save from James Horgan four minutes into the second half.
The Brian Dillon's forward, who played impressively throughout, sent a powerful low shot, through a crowded goal mouth and the Newmarket keeper, whose vision was impeded, showed lightening reaction to go down on the ball and make a spectacular save.
It was one of Morgan's many fine saves in the Newmarket goal during the game.
By the three quarters stage, Brian Dillon's had only knocked 2 points off Newmarket's interval lead, and it was obvious by that stage, barring a scoring rush by the city side in the last quarter, that Newmarket were heading for a meeting with Killavullen in the final at Charleville on Dec 6th.
This will be Newmarket's first appearance in the final of the competition in 28 years, the last occasion being in 1970 when they beat Adrigole to take the title for the only time.
Their performance in the first half of Sunday's game, on very heavy ground, was spectacular. They ran a good Brian Dillon's side, which had proved its metal the previous Sunday, into the ground with a display of speed, grit and precision football that was a joy to behold.
Dominating in most sectors of the field, and especially at midfield, where Michael Cottrell and Denis O'Brien were very strong and resourceful, they reduced the Brian Dillon's men to almost a spectator role while they played the ball around to each other and ran up a very sizeable tally.
The extent to which Newmarket controlled the play is illustrated by the fact that Brian Dillon's did not get their first score of the half hour until four minutes before the interval, by which time Newmarket had 1-8 on the board.
And, to give a further example of the trend of play, Newmarket had five wides during the period to one for the city side.
Mark O'Sullivan was the star of the Newmarket attack in the first half, scoring six points, but the other forwards all shared in the credit with their supporting play, which created the openings.
And their pointing tally was supplemented by a great goal by Sean Francis O'Connor, in the 19th minute, to put them 1-5 to 0-0 ahead at that stage.
The scoring avalanche started in the second minute when Denis O'Brien won possession at midfield and passed to Michael Cottrel, who sent Mark O'Sullivan away for a fine point.
Keeping up the pressure, Newmarket forced two frees in the next five minutes which O'Sullivan converted into points.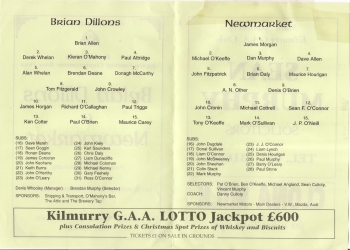 They created a few goaling chances as well, but the slippery ground prevented O'Sullivan and Colin Stack from applying the finishing touches when finding it hard to keep their balance.
Brian Dillon's were making little ground against a solid Newmarket defence in which the halfback line of John Fitzpatrick, Brian Daly and Maurice Hourigan played very confidently, and it was disappointing for them when, after their few promising raids, James Horgan's pointing effort from a free came back off the post and was cleared.
Newmarket extended their lead in the thirteenth minute when Tony O'Keeffe made a great run from the left wing and gave the ball to Michael Cottrell who dropped it over the bar.
That was followed in the seventeenth minute by a spectacular point by Mark O'Sullivan from a sideline kick at an acute angle on the left.
Two minutes later Newmarket were through for a goal when Mark O'Sullivan sent the ball in from a forty five and Sean Francis O'Connor blasted it to the net when it was returned from the goal mouth.
The Duhallow were eight points clear at that stage and Brian Dillon's were getting few opportunities to reduce the margin, so effective were Newmarket in all sectors of the field. And when the city men did look dangerous, on one occasion, Michael Cottrell (who was having a marvellous game) saved in front of goal and effected a great clearance.
Mark O'Sullivan was sent away by Tony O'Keeffe for another point in the twenty first minute, and then, after good work by John Paul O'Neill, O'Sullivan was the provider for John Cronin to find the target a minute later. That score was followed in the twenty fourth minute by a great effort by O'Sullivan who secured possession about forty meters out and managed to kick the ball over the bar even though losing balance on the slippery sod.
Brian Dillon's who must have been wondering how Newmarket had raised their game so spectacularly from the previous Sunday, got a crumb of comfort shortly before half time when John Crowley kicked their first score from far out.
Faced by a ten point interval deficit, the city champions came out for the second half with fierce determination to get into the game. And it was not long before they began to make an impact, even though they had only a point by James Horgan to show for a lot of pressure in the first 12 minutes of the period.
With Tom Fitzgerald and John Crowley making a much bigger impact at midfield, and the team generally adopting an attacking role, crowding the midfield area as the backs moved out to lend a hand, Brian Dillon's stepped up enormously on their first half display and threw Newmarket on the defensive for a considerable period.
But to their credit, Newmarket's backs showed great resilience in extricating themselves from many tight situations, with the full back line of Michael O'Keeffe, Dan Murphy and Dave Allen, playing with great tenacity and the midfielders and even the half forwards falling back to help.
Newmarket's scoring opportunities were very limited at this stage and they had the frustration of missing a few scores from frees before Mark O'Sullivan pointed in the 42nd minute. That, as it transpired was to be their only score of the second half.
Three points for Brian Dillon's, one by Richard O'Callaghan and the other two by Ken Cotter, who was working like a trojan in their attack, had the margin down to seven points with 12 minutes to go.
There was concern but no panic on the Newmarket side, for they were coping well with the pressure and creating the odd scoring chance themselves even though they were not successful in adding to their tally.
Indeed, on a few occasions Newmarket opened up the Brian Dillon's defence and threatened for a goal but the slippery ground was not conducive to slick forward play and the chances passed,
On one occasion, from a punched effort from Mark O'Sullivan for a point, the ball dropped under the bar to the net but it did not count.
As the last quarter progressed it became more and more obvious that the brave effort by Brian Dillon's to turn the game around was not going to succeed, and they had to wait until injury time to reduce the margin to 6 points by James Horgan.
Newmarket had overall reason to be very pleased with their performance for they played copy book football in the first half and they defended well in the second period when Brian Dillon's threw everything they had at them
The Duhallow side had to line out without Danny Culloty and were in all down five members of the team that had played in the Duhallow final (two others injured and two others gone abroad).
Culloty was not missed in the first half when the team struck inspirational form, but his steadying influence and leadership qualities would surely have been valuable assets when they came under pressure in the second period.
However, they achieved their objective of getting to the County Final and there will now be enormous interest all over the North Cork area in their forthcoming clash with Killavullen who also played impressively when beating Donoughmore recently in the other semi-final.
The match was played on 22nd of November in Kilmurry, Final score was Newmarket 1-09 to Brian Dillons 0-06. The team on the day was as follows:
James Morgan
Michael O'Keeffe
Dan Murphy
Dave Allen
John Fitzpatrick
Brian Daly
Maurice Hourigan
Michael Cottrel (0-1)
Denis O'Brien
John Cronin (0-1)
John Paul O'Neill Capt.
Tony O'Keeffe
Sean Francis O'Connor (1-0)
Mark O'Sullivan (0-7, 0-2 frees, 0-1 sideline)
Colin Stack
Subs: Jerry McCarthy, John McSweeney.
Brian Dillons – B Allen, D Whelan, K O'Mahony, P Attridge, A Whelan, B Deane, D McCarthy, T Fitzgerald, J Crowley, J Horgan, R O'Callaghan, P Triggs, K Cotter, J Corcoran, P O'Brien. Sub: S Googin for P O'Brien.
Scorers for Brian Dillons: J. Horgan 0-2 (0-1 free), K Cotter 0-2, J. Crowley, R O'Callaghan 0-1 each.
Referee – Paul Higgins, Ballincollig.