Original Report: The Corkman, Friday, November 13th, 1998.
By John Joe Brosnan.
Newmarket stroll past Crosshaven in physical junior football quarter-Final
Newmarket qualified to meet city champions, Brian Dillons, in the county junior football championship when they scored a decisive victory over Crosshaven, the Carrigdhoun representatives in a tough contest at Glantane on Saturday.
The final score might suggest that this was an easy canter for Newmarket but far from it. They were by far the more accomplished side all through and had the game more or less sewn up by half-time when they led by 1-6 to 0-1 but Crosshaven were a physically strong, hard tackling side who played with great vigour and certainly left the Duhallow champions aware that they had been in a game.
Crosshaven finished the hour with thirteen men, having had two players sent off for late tackles in the second half, but it really made little difference. for Newmarket had matters in safe keeping by then,with their backs playing so impressively that Crosshaven rarely threatened for a score.
Crosshaven were also strong in defence for most of the game, something that might seem a contradiction considering Newmarket's final tally. The fact is that Newmarket scored 1-4 in a ten minute burst late in the first half, and had to battle for every score before and afterwards.
It was, indeed, somewhat worrying for Newmarket when, despite looking the better side from the start, they just led by a single point (0-2 to 0-1) after twenty-five minutes. Credit that to a solid Crosshaven defence which soaked up a lot of pressure, extricating themselves from dangerous situations time and again.
It all came good for Newmarket in the last ten minutes of the first half, however, when they got through for a succession of good scores, with a goal by Sean Francis O'Connor giving them an enormous boost.
There were five minutes of injury time played in this half as a result of stoppage early on which left Mark O'Sullivan and Crosshaven full-back Brian Coniry stretched on the ground and badly shaken after a collision.
Turning over with a lead of eight points, Newmarket had to maintain a strong effort all through the second half to keep Crosshaven from coming back at them. They succeeded in doing so because of an impressive display right through the field, with all sectors of their team measuring up to task.
Being forced to lineout without three players who had served them well in the Duhallow fianl against Millstreet, Newmarket had reason to feel pleased that the replacements David Allen, Brian Daly and Sean Francis O'Connor all played very well, proving that strength in depth is important for any side with serious championship aspirations.
Danny Culloty, who sustained a dislocated finger in the closing minutes of the Duhallow final, was able to resume duty and once again gave a masterful performance (helping out in defence and attack as well as at midfield), with his midfield partner, Denis O'Brien, also giving a great display.
Because of Newmarket's thirteen point margin at the end, there might be an impression that Crosshaven were a very poor side, but that might be to overstate the case. They beat an ambitious Kinsale team, trained by former Tipperary coach Seamus McCarthy in the Carrigdhoun final and had hopes of making a reasonable impact in the county championship after that victory.
Their physical strength and strong tackling a bit over the top at times, one might say might have upset many a team but, Newmarket showed their mettle when standing up to it and their overall performance was very impressive.
Having been postponed twice and switched from Coachford to Glantane because of ground conditions, the game was played on a pitch that was in exceptionally good shape considering recent heavy rain, but there was a swirling cross wind which did not confer any distinct advantage on either side but made players a bit careful with their shooting.
The paucity of scores in the first twenty minutes came as a surprise, and a good deal of frustration for Newmarket, who were dominating the play but not reaping a reward on the scoreboard.
John Paul O'Neill opened their tally in the 4th minute after a move involving Denis O'Brien and Mark O'Sullivan but after that there was a long period without a score even though Newmarket threatened on a number of occasions.
Perhaps because of the influence of the wind, they mostly elected to work the ball in close to goal before trying for scores, only to be met by a very solid Crosshaven defence which gave little away.
Frustrated by the lack of scores, the Newmarket supporters gave a big cheer to Denis O'Brien when he sent over a good point from distance in the 20th minute after Mark O'Sullivan had crossed the ball from a free.
The Crosshaven forwards were being well contained at the other end by an impressive Newmarket defence, and considering the trend of play it was a significant bonus for them when Jamie Fitzgerald pointed a free to leave only a point between the teams after 22 minutes.
Nobody would have guessed it at that time, but that was to prove Crosshaven's only score during the hour.
Newmarket's spirits rose when John Cronin made a run forward in the 25th minute to score a great point after good work by Denis O'Brien and Sean Francis O'Connor and they got further encouragement when O'Brien followed with another point after taking a pass from John Paul O'Neill.
Then, just at the end of normal time, Newmarket went through for the goal that really put them in the driving seat. Danny Culloty sent the ball into the goalmouth from a free, wher Tony O'Keeffe grabbed it and passed to Mark O'Sullivan, who delivered the ball out to Sean Francis O'Connor and the latter lost no time in sending a great shot to the net through a crowded goalmouth.
As the first half went into injury time Newmarket kept up the pressure and had two further points in quick succession, with Mark O'Sullivan pointing a free and Sean Francis O'Connor adding another from play.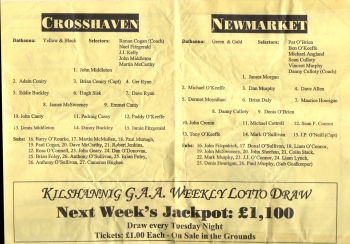 Crosshaven were reduced to thirteen men when they had two players sent off in the first ten minutes of the second half. Maintaining their control of the play, Newmarket had two points in quick succession, the first from Denis O'Brien after a Mark O'Sullivan free (following good work by Tony O'Keeffe) and the second by Michael Cottrell, who was playing very impressively, after a good play from John Cronin.
Cronin and Cottrell were also involved in the next move which led to a score, combining to send John Paul 0'neill away for a point and then Sean Francis O'Connor, who was showing excellent form, sent over two points which boosted Newmarket's lead to thirteen points
Crosshaven made several attempts to add to their tally but were stumpted at every turn by a Newmarket defence which never put a foot astray.
In the late stages Newmarket lost the srvices of three players who had been playing well, with John Paul O'Neill and Michael O'Keeffe being forced off through injury and Tony O'Keeffe being withdrawn after recieving a heavy tackle.
By that stage Newmarket were thinking ahead to next Sunday's semi-final against Brian Dillons for they had Crosshaven's challenge well and truly seen off.
The match was played on 7th of November in Glantane, Final score was Newmarket 1-11 to Crosshaven 0-01. The team on the day was as follows:
 
 
 
 
James Morgan
 
 
Michael O'Keeffe
 
Dan Murphy
 
David Allen
 
 
Dermot Moynihan
 
Brian Daly
 
Maurice Hourigan
 
 
 
 
Danny Culloty
 
Denis O'Brien (0-3)
 
 
 
John Cronin (0-1)
 
Michael Cottrell (0-1)
 
Sean Francis O'Connor (1-3)
 
 
Tony O'Keeffe
 
Mark O'Sullivan (0-1 free)
 
John Paul O'Neill (0-2) Capt.
Subs: Donal O'Sullivan, John Fitzpatrick & John Mcsweeney.
Crosshaven – J Middleton, A Coniry, B Coniry, G Ryan, E Buckley, H Sisk, D Ryan, J McSweeney, D Buckley, J Canty, B O'Rourke, E Casey, D Middleton, P Casey, J Fitzgerald, Sub: P O'Keeffe for D Middleton, M McMullen for J Canty.
Scorers for Crosshaven: J. Fitzgerald 0-1 (free).
Referee – Ray O'Sullivan, Kilmurray.