Newmarket captured the Duhallow Junior B Football Championship title for a second time and were full value for their victory over Rockchapel by 1-9 to 1-6 in the final played in blustery conditions at Boherbue on Sunday afternoon.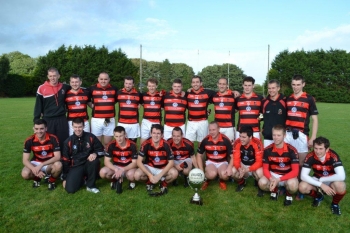 Despite the sunshine, the breeze was the major influence throughout the contest, providing a hindrance to attractive football. Newmarket began in whirlwind fashion as they laid the foundation for victory with an impressive performance in the opening quarter.
Ian Flanagan cut through the defence after a fine solo run in the second minute and drilled a shot over the crossbar for the games opening score. Newmaket moved the ball at pace and the driving running of Gavin Forde was pivotal to a third minute goal. The half back advanced at pace before linking up well with both Luke McCarthy and midfielder Jonathan Flaherty whose probing shot nestled into the corner of the net.
Luke McCarthy slotted over a well taken free while a bout of Newmarket pressure ended with Niall O'Connor executing an excellent forty five straight over the crossbar. The Newmarket full forward line worked well and Kevin O'Connor showed some nifty footwork in creating space and kicking a superb point, to give Newmarket a lead of 1-4 midway through the half.
Rockchapel eventually made their possession pay by kicking two points in succession but Newmarket maintained the momentum as centre half forward Shane Murphy, a central figure throughout, kicked a fabulous point amongst a cluster of players. Rockchapel were making up for a sluggish start and cut the deficit with two converted frees.
Newmarket created several opportunities and in addition to nine first half wides, threatened to add to their goal tally on a few occasions but narrowly missed out, a couple of times due to fine goalkeeping. The half ended with Robert Stack skilfully guiding a Niall O'Connor placekick over the crossbar from the edge of a crowded goalmouth.
Newmarket went into the interval holding a well earned advantage of 1-6 to 0-4.
Newmarket were boosted instantly upon the restart as a well worked move ended with the excellent Robert Stack kicking superbly over the bar from distance into a crossfield breeze. Rockchapel responded with a point but scoring proved increasingly difficult, as the sides took a preference to a possession game, rather than spilling the ball and kicking into the testing conditions.
Scores became very elusive but Newmarket were again denied a certain goal as a fine move saw Niall O'Connor in on goal but he was denied by a fine block from the Rockchapel goalkeeper.
Ian Flanagan added a point from a free as Newmarket held a lead of 1-8 to 0-5 after nine minutes of the half. There followed a spell of ten minutes without a score as the Newmarket defence held firm while the introduction of Steven Stokes at midfield added strength and impetus at a time when it was desired.
Newmarket ended the scoring drought as Ian Flanagan converted a free and they held a strong position entering the final ten minutes. Rockchapel pointed instantly and began to assume control as a comeback materialised. Newmarket held out until the fifty seventh minute before Rockchapel crashed home a goal from close range ensuring a nervy conclusion for the Newmarket supporters. They escaped narrowly on a couple of occasions as Shane McAuliffe produced a wonder save and some last gasp defending enabled Newmarket to emerge with the ball.
Newmarket saw out the onslaught and the final whistle was greeted with much approval by the Newmarket contingent.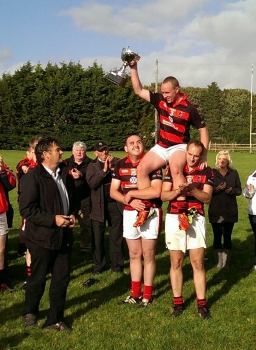 Team captain Pa O'Brien was presented with the cup by Duhallow Board P.R.O., John Tarrant as the club added the title to a previous victory in 2005 when Niall O'Connor, Shane Murphy and Kevin O'Connor also lined out on that successful occasion.
Congratulations to team manager Peter Foley and to fellow mentors David Quinlan, Kieran Lehane and Seanie Francis O'Connor on a fantastic achievement.
The Newmarket team and scorers…
Jonathan Flaherty (1-0), Ian Flanagan (0-3), Robert Stack (0-2), Niall O'Connor (0-1), Shane Murphy (0-1), Luke McCarthy (0-1), Kevin O'Connor (0-1).
Shane McAuliffe
Michael O'Leary
Mark Murphy
Jack Birthley
Gavin Forde
Pa O'Brien
Alan Ryan
Jacko Flaherty
Niall O'Connor
Ian Flanagan
Shane Murphy
Barry O'Connor
Luke McCarthy
Robert Stack
Kevin O'Connor
Subs: Steven Stokes, John Scanlon