An amazing ten minute spell towards the end of the game, that yielded a goal and seven points enabled Newmarket to overturn a three point deficit and claim the North Cork Minor A Hurling League with a final victory over Dromtariffe by 1-17 to 1-11 at Castlemagner on Sunday morning.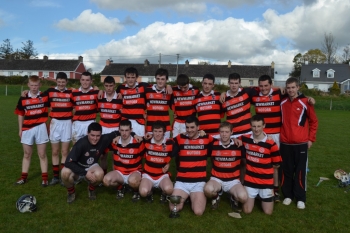 Despite playing against a slight breeze, Newmarket started brightly and found the target through early pointed frees from Donal Hannon and a huge long distance effort from Gavin Forde.
Dromtariffe pointed from play in the seventh minute but Donal Hannon was again accurate from a deadball for Newmarket moments later.
Dromtariffe gained parity midway through the half as a brace of pointed frees, tied the sides for a first time at 0-3 apiece. An even contest continued to unfold as both sides depended mainly on frees to register scores.
The next four points were shared as both Donal Hannon and Gavin Forde gave Newmarket a slender advantage on two occasions. Both sets of backs were tight and compact, giving little leeway to their opposing attackers with Paudie Allen particularly outstanding throughout for Newmarket.
An excellent point from close to the sideline from Donal Hannon again helped Newmarket into a lead with six minutes of the half remaining. Dromtariffe were on terms for a fourth time three minutes later before a very impressive Dromtariffe goalkeeper was forced into action for a first time on denying a terrific Donal Hannon effort.
As the half concluded, Dromtariffe took the lead for the first time on pointing another free and this enabled them to enter the half time break with a lead of 0-7 to 0-6.
The game burst into life two minutes after the restart with a fantastic solo goal from Dromtariffe. Newmarket replied with a pointed free from Donal Hannon before eight minutes into the half a move created by Alan Ryan and Donal Hannon placed the ball perfectly in front of Barry O'Connor, who was now operating at full forward. As he rounded his marker and bore down on goal his goalbound shot was stopped by the goalkeeper and flicked over the bar for a Newmarket point.
Donal Hannon who had been switched to midfield also saw a well struck close in free rebound off an upright as Newmarket stepped up to the challenge. A Dromtariffe free left a clear goal between the sides but a superbly struck point from Michael Cottrell and another from the ever growing influence of Donal Hannon soon cut the arrears to just a point at the end of the third quarter.
A brace of pointed Dromtariffe frees restored their three point lead as the game entered the final ten minutes.
Newmarket dug deep and produced an outstanding all round display for the remainder of the contest. The side were led by the inspirational Donal Hannon and again he found the target for his seventh point of the game. Eight minutes from time and Newmarket turned the spoils in their favour. A free from Gavin Forde was launched goalwards from which Barry O'Connor gathered possession and set off on a solo run. As he closed in on goal he drilled a shot past the Dromtariffe goalkeeper for a well taken goal and suddenly Newmarket were again in front by a point. This provided the springboard for the remaining minutes. Team captain Jonathan Flaherty made a few rampaging solo runs and from one on these he found the range for a superb point despite the presence of several opponents.
Up front, talisman Barry O'Connor proved a match winner and he added to his stock with a brilliant point from an angle. Newmarket were now firing on all cylinders and Gavin Forde pointed magnificently from midfield to stretch the lead to four points. Donal Hannon was again unerring from a free before Gavin Forde again added another superb long distance point. Donal Hannon put seven points between the sides as amazingly Newmarket accounted for a goal and seven points in a crucial ten minute spell.
Dromtariffe tried to recover and threw everything into attack to try and muster a few vital scores. Newmarket held firm as they only conceded a point and withstood wave after wave of Dromtariffe attack.
The final whistle eventually arrived and Newmarket celebrated a notable victory and achievement.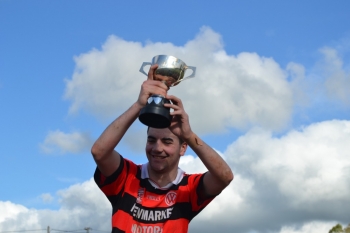 Team captain Jonathan Flaherty was presented with the cup by the Secretary of the North Cork Juvenile Board, Steven Lynch. Congratulations to the panel of players and to their mentors, Gerard Hannon, Tadhg O'Connell, Kieran Lehane and John Ryan.
The Newmarket team and scorers…
Donal Hannon (0-9), Barry O'Connor (1-2), Gavin Forde (0-4), Michael Cottrell (0-1), Jonathan Flaherty (0-1)
Shane McAuliffe
Liam Birthley
Jamie Hayes
Eoin O'Connell
Paudie Allen
Alan Ryan
Jack Guiney
Conor O'Keeffe
Gavin Forde
Barry O'Connor
Michael Cottrell
Jacko Flaherty
Danny O'Connell
Donal Hannon
Daniel O'Doherty
Subs: Patrick Kelly