Newmarket's junior hurlers suffered a bitterly disappointing narrow defeat against Banteer by 1-8 to 0-10 in the opening round of the EPS Bison Duhallow Junior Hurling Championship played in constant rain at Kanturk on Tuesday evening. The torrential rain showers that preceded the game made conditions far from ideal but this did not deter both sides from serving up an entertaining contest in the most trying of circumstances.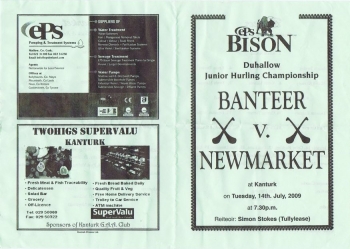 Newmarket began the contest in rampant form and took an early lead when the unerring free taking of Brian Daly opened the scoring in the third minute. Newmarket maintained their bright start adapting well to the conditions and they increased their advantage in the seventh minute when Colin O'Sullivan pointed from a narrow angle. Banteer settled on opening their account when pointing in the tenth minute and the sides were level for the first time when they added a second in the fourteenth minute. Two further points gave Banteer the advantage but Newmarket were back on terms when Brian Daly found the target twice in as many minutes from placed balls. Newmarket were driven on by some excellent individual displays, centre back Pa O'Brien to the fore of a terrific defensive display where all six backs excelled. Barry O'Leary and Tony O'Keeffe were inspirational with the latter capping his performance with a truly memorable point after another driving solo run. As the half entered the closing stages Banteer regained level terms and the sides turned over level for the third time at 0-5 apiece.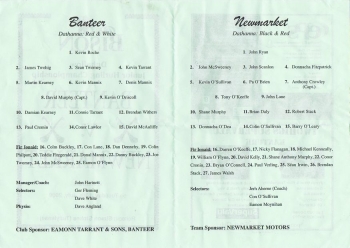 The faultless freetaking of Brian Daly edged Newmarket in front again within three minutes but Banteer levelled three minutes later before they swung the pendulum in their favour with another point. A game that ebbed from end to end turned back in Newmarkets favour when John Lane levelled before Barry O'Leary landed a spectacular point from distance. A Banteer point at the end of the third quarter had the sides level for a sixth time at 0-8 apiece. Newmarket gained the impetus again with Brian Daly on target for a fifth time and Colin O'Sullivan doubled the advantage with eleven minutes remaining. A tense conclusion followed as the finishing line approached but the games most significant moment came five minutes from time when Banteer pounced with a clinical finish for the games solitary goal. Despite this setback Newmarket relentlessly sought an equalizer and came agonisingly close on a couple of occasions but ultimately they failed to find the target and just fell short by the narrowest of margins following a fine hours effort.
The Newmarket team was…
 
 
 
 
John Ryan
 
 
John McSweeney
 
John Scanlon
 
Donnacha Fitzpatrick
 
 
Kevin O'Sullivan
 
Pa O'Brien
 
Anthony Crowley
 
 
 
 
Tony O'Keeffe (0-1)
 
John Lane (0-1)
 
 
 
Shane Murphy
 
Brian Daly (0-5)
 
Robert Stack
 
 
Donnacha O'Dea
 
Colin O'Sullivan (0-2)
 
Barry O'Leary (0-1)
SUBS: Nicky Flanagan, Ian Flanagan, Shane Anthony Murphy.