Original Report: The Corkman, Friday, July 31st, 1998.
By John Joe Brosnan.
Amazing comeback from Newmarket
A GREAT comeback in the closing stages, which saw them scoring 1-3 without reply in the last six minutes, gave Newmarket a point victory over Boherbue in a thrilling Duhallow under 21 football final at Castlemagner on Tuesday evening.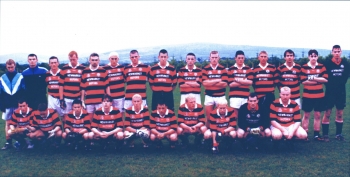 It was a huge turnabout in the fortunes of the teams, for Boherbue had led by six points at half time, and when they were still five in front facing into the closing stages it is doubtful if even the most optimistic Newmarket supporters gave their team a chance of winning.
The victory then, was all the sweeter when it came, for teams coming from behind to pull a game out of the fire get huge satisfaction from beating the odds.
But spare a thought for Boherbue, who appeared to have the title within their grasp only to have it snatched away from them in those hectic closing minutes.
A goal by Tony O'Keeffe, who punched to the net from a ball directed towards the corner of the square by Denis O'Brien three minutes from time, brought Newmarket level, and as the game went into injury time Colin Stack kicked a great point from the left wing to give them the lead for the first time.
But Boherbue still had time to respond, for there had been a few stoppages in the second half, and as play continued they worked the ball up the field and forced a free within scoring distance to the right of the posts.
Tadhg Foley opted to pass to a colleague in a better scoring position, but a great interception by a Newmarket back cut off the danger and they held out in the remaining time to win the title for the first time since 1994.
The game provided a fine standard of football on a lively pitch between two very determined teams. The wind, which favoured Boherbue in the first half, was a considerable influence, for the team playing against it had to work much harder to make ground.
Boherbue looked the more impressive side in the first half and set Newmarket a huge task when they led by seven points (1-5 to 0-1) after 23 minutes. The margin was reduced to six by half time, but the odds were clearly on a Boherbue win at that stage even allowing for the wind advantage which they had enjoyed.
The Boherbue supporters had, indeed, plenty of reason to be pleased by their team's first half performance, for their backs were sound, Tadhg and Seamus Foley were very impressive at midfield and their forwards looked much more dangerous than their opposite numbers.
Newmarket failed to score from play during the first thirty minutes, with Sean F O'Connor sending over their three points from frees. Some erratic shooting, especially in the early stages, was a contributing factor to their low tally.
Dan Buckley had Boherbue's first point in the 4th minute and others followed from Roger Casey (2), who was roaming to good effect all over the place, and Seamus Foley before they went through for their goal in the 22nd minute.
This stemmed from a great run down the right wing by the speedy Kieran O'Keeffe, who took the ball into the corner, being harried along the way, before delivering it towards the square. There Roger Casey secured possession and sent a rasper to the net from close range. Seamus Foley sent over a great point from far out in the 26th minute, giving Boherbue an interval tally of 1-6 to Newmarket three points, all scored by Sean F O'Connor.
The general opinion at that stage was that Newmarket needed to make an impact early in the second half if they were to come meaningfully into contention, but that did not happen, because a big improvement in their part not matched by shooting, which was quite erratic.
It was Boherbue who had the first score second half in 39th minute when Tadhg Foley landed a great point for distance to boost lead to seven points.
Newmarket's prospects suffered a further blow when they had one of their leading players sent off. It looked quite beyond them to bridge the sizeable gap with fourteen men.
But they battled on with great spirit, with Denis O'Brien and Dermot Moynihan very influential at midfield and the backs coming to grips with the Boherbue forwards, who did not score in the last twenty minutes.
Newmarket seemed to be throwing away any chance they had of saving the game when they had several wides before Sean F O'Connor and Denis O'Brien, each with a point from a free, reduced the margin to five points by the threequarter stage. When the next nine minutes passed without Newmarket reducing their deficit further it looked as if Boherbue were going to hold out for a comfortable win.
However, all that was to change in the last six minutes. Newmarket were pushing forward with great determination and points in quick succession by Sean F O'Connor and Colin Stack had the margin down to three points. And when Tony O'Keeffe punched Denis O'Brien's centre to the net in the 57th minute it was all square.
The title was up grabs at that stage, an Newmarket snatched it when Colin Stack lofted over a great point from far out on the left wing as the game went into injury time.
The match was played on 28th of July in Castlemagner, Final score was Newmarket 1-8 to Boherbue 1-7. The team on the day was as follows:
 
 
 
 
Paul Murphy
 
 
Mark Murphy
 
Dan Murphy
 
John McSweeney
 
 
Michael O'Keeffe
 
Dermot Moyinhan
 
John Fitzpatrick
 
 
 
 
Brian Daly (Capt.)
 
Denys O'Brien (0-1)
 
 
 
Sean F. O'Connor (0-5)
 
Donnacha Murphy
 
Robbie Keane
 
 
Tony O'Keeffe (1-0)
 
Colin Stack (0-2)
 
Donal Daly
Subs: James Cashman, Barry O'Leary.
BOHERBUE – B Leahy; T Breen, K O'Connell, T Curtin, J O'Connor, C Hickey, T Foley, S Foley, D Courtney, J J Fitzgerald, D Buckley; A Lynch, K O'Keeffe, R Casey.
Boherbue: R Casey 1-2 (1 free), S Foley 0-3, D Buckley, T Foley 0-1 each.
Referee: Mick Higgins, Castlemagner.