Original Report: The Corkman, Friday, August 6th, 1993.
By John Joe Brosnan.
Newmarket record tame win
NEWMARKET sent a warning of their intentions with smooth passage into the semi final of the Duhallow Junior 'A' Football Championship following a resounding victory over Boherbue in Millstreet on Saturday evening.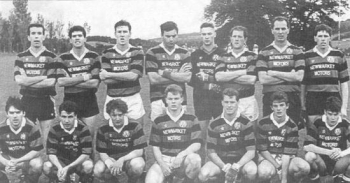 From a contest that failed to live up to expectations, Newmarket dominated throughout the field to deliver an impressive win and a firm indication that they are genuine contenders for ultimate honours.
Even without the services of the talented Mark O'Sullivan, Newmarket displayed the urgency, skill and teamwork to dispose of a tame Boherbue challenge.
Five points behind coming up to the interval, Boherbue seemed to be back in contention when Donal Vaughan goaled. But instead of lifting their game, they struggled, and hopes of a revival quickly vanished with two devastating blows either side of the half time whistle.
First Tom Doherty shot his second goal and soon after the changeover, Niall O'Callaghan blasted home another. Newmarket, now in the driving seat, had leapt from a narrow two point lead to being 11 points ahead and a place in the semi-final against Kiskeam or Rockchapel was secured.
Early on, the tie flattered to deceive and a competitive clash looked in store as Kieran Lenihan gave Boherbue the lead from a 2nd minute pointed free.
With Danny Culloty fielding superbly in midfield and John Paul O'Neill influential at centre back, Newmarket quickly came to terms and they were boosted by a 10th minute goal.
Following good work by Neily McCarthy, Michael Cottrell centred for Tom Doherty to punch the ball outside the reach of Fergal Walsh and into the back of the net.
Taking a firm grip in the vital half back and midfield areas, Newmarket continued to press forward. Two great points from defender Liam O'Connor and a third from a John Sheehan free pushed Newmarket 1-5 to 0-2 ahead after 20 minutes.
To redress their problems, Boherbue moved Kieran Lenihan to centre forward in an effort to boost an ailing attack. The move improved their fortunes, temporarily, Lenihan kicking a point from a free and in the 27th minute, Boher broke through for their lone goal.
Goal scorer, Donal Vaughan initiated the move, Donough McAuliffe finding Kieran Lenihan saw Lenihan's bid for a point come off the upright. Full-forward, Danny Lenihan perfectly positioned placed the in running Vaughan to force the ball into the net and a tonic score.
However, Newmarket shrugged off the set back and, galvanising their challenge, they produced a storming finish. Tom Doherty pointed and after the corner forward had the disappointment of a goal disallowed, Neily McCarthy launched a delivery for Michael Cottrell to create the opening for Doherty to evade the clutches of the Boherbue defence and goal just on half-time.
Trailing 2-6 to 1-3, Boherbue were in with a chance after playing against the wind in the opening half. From the restart, Newmarket were quick to set about their task and turning on the heat, they added on the scores.
John Sheehan and Michael Cottrell hit over two points and, in the 35th minute, they again prised open the Boher defence. Danny Culloty set in motion John Dugdale whose inch-perfect pass put Niall O'Callaghan through for a goal.
Boherbue's ploy of operating a two man full-forward line backfired as the industrious corner back John Dugdale blossomed outfield to pick up an amount of possession.
Elsewhere, Newmarket remained solid, Sean Culloty was ever-dependable at full back, consistent Liam O'Connor, John Paul O'Neill and David Fitzgibbon were never threatened, Neily McCarthy and Danny Culloty were masters at midfield and the attack varied their game with telling effect.
Three points from the midfield pairing McCarthy and Culloty (2) boosted Newmarket's lead to 3-12 to 1-5 at the threequarter stage.
To their credit, Boherbue kept battling from the resistance of defenders Gerard Murphy and Seamus O'Sullivan together with the efforts of Donal Vaughan and Jack Fitzgerald in attack.
Points from substitute Dan O'Connor and two frees by Kieran Lenihan helped Boherbue but the goal they needed to salvage the game never looked like materialising.
There was no stopping Newmarket in the closing 10 minutes and, led by the superb John Dugdale and Neily, they pressed home their dominance to add on points from John Sheehan (3) and Vincent Twomey to run out comprehensive winners.
The match was played on 31st of July in Millstreet, Final score was Newmarket 3-16 to Boherbue 1-08. The team on the day was as follows:
 
 
 
 
James Morgan
 
 
Kieran Quilter
Sean Culloty
John Dugdale
 
 
Liam O'Connor (0-2)
John Paul O'Neill
David Fitzgibbon
 
 
 
Danny Culloty (0-2)
Neily McCarthy (0-1)
 
 
John Sheehan (0-5)
Niall O'Callaghan (1-0)
John Hartnett (0-2)
 
 
Michael O'Sullivan
Michael Cottrell
Tom Doherty (2-1)
Subs used: Vincent Twomey (0-1)
Referee: Denis Twomey (Millstreet).