Original Report: The Corkman, Friday, October 7th, 1983.
Culloty's goal clinched title for Newmarket
NEWMARKET regained the Duhallow Junior hurling league title after a lapse of six years, their last victory having been in 1977, when they defeated Meelin by 2 two-point margin in a hard-fought final at Banteer on Sunday.
The outcome was very much in the balance when the sides were level with 10 minutes to go, but a goal for Newmarket by Danny Culloty five minutes from time proved decisive.
It was an interesting game all through, with never much between the teams on the play. Conditions were not at all favourable, as the ground was slippery after heavy rain and a continuous mist made the ball greasy.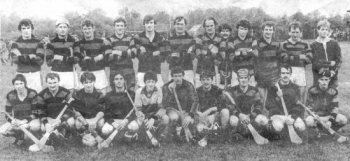 Meelln there pre-match favourites because of the championship win over the same opposition, but Newmarket made their presence felt early on when they went through for a goal and a point in the first six minutes.
The point came from long-distance free by Jerry Cronin and the goal caught Meelin by surprise as it seemed as if the ball was going wide when Ted Burke pulled it back from the line and placed it the path of Connie O'Callaghan, who deposited it in the net.
The first quarter ended with Newmarket leading by 1-1 to nil, but Meelin did better in attack after that, with Pat O'Connor, Donie Buckley and John Brosnan picking off some nice points. At half-time when Newmarket led by 1-3 to 0-5, it was oblivious that a very close battle for the title was in prospect in the second half.
Meelin's fortunes got a considerable boost within five minutes of the resumption when Pat O'Connor goaled after Donie Buckley had made a fine run through the Newmarket defence before parting to Denis Fitzpatrick who in turn gave the ball to O'Connor.
But the jubilation that followed this score was short-lived, as Newmarket were quickly back attacking and had a goal by Damien Murphy from close range after Connie O'Callaghan had worked hard for possession and, kicked the ball into the square.
The tempo of the game increased and Meelln drew level with a point by John Brosnan and then edge ahead when Brosnan placed Pat O'Connor for a point from a very acute angle almost immediately afterwards.
An exchange of points between Brendan Daly and Ned Brosnan still left the advantage with Meelin, and they held it until ten minutes from time when Jerry Cronin , with a long-distance point from a free, brought Newmarket level and then repeated the performance to ahead.
The game was balanced on a knife-edge with Newmarket just a point ahead with five minutes go and indeed the possibility of a draw loomed large at that stage.
But when Danny Culloty shot a goal from about thirty five yards' range Newmarket were in the driving seat and they increased their lead to five points when Jerry Cronin sent over another point from a free.
Meelin had little chance of recovering the ground in the time available but they never gave up trying. John Browne's goal just before the end came too late to make any difference.
The match was played on 2nd of October in Banteer, Final score was Newmarket 3-7 to Meelin 2-8. The team on the day was as follows:
Donnacha Moyinhan
Paudie Moyinhan
Seanie Daly
John Feehin
Sean Culloty
Jerry Cronin (0-4)
Johnny C. O'Keeffe
Danny O'Flynn
Neily McCarthy
Seamus Angland
Brendan Daly (0-1)
Damien Murphy (1-0)
Ted Burke
Connie O'Callaghan (1-0)
Danny Culloty (1-0)
Referee: Pat Roche, Lismire.