An excellent Newmarket junior hurling team created history and bridged a thirty one year gap, to claim the Kanturk Credit Union, Duhallow Junior Hurling League Final against a fine Tullylease side by 2-17 to 2-14 in a compelling contest played at Kanturk on Saturday evening.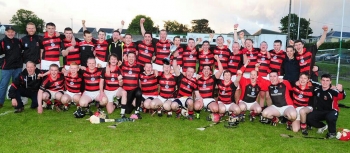 A day riddled with rain showers ensured a tricky surface at a picturesque Kanturk, played before a healthy attendance. The game was slow to establish a pattern with a very stop-start pattern in the first quarter. Newmarket were first to score with Gavin Forde resuming where he left off in the semi final a week previously, in superb free taking form. He stepped up to slot over two points in the third and seventh minute to settle Newmarket. Tullylease opened their account by similar means in the eighth minute. A well worked Newmarket move in the eleventh minute saw Pa O'Brien place a well directed ball in the direction of captain Tony O'Keeffe and a penalty resulted as he was upended in the square. Gavin Forde's goalbound strike was diverted over the bar for a third Newmarket point. Tullylease responded with the first point from open play but Gavin Forde was in menacing form from placed balls as his fourth point helped Newmarket to a two point advantage, 0-4 to 0-2 midway through the half. Tullylease pointed a free but Tony O'Keeffe did superbly to gather possession and point from a difficult angle in the seventeenth minute. John Ryan stood out with a commanding display at centre back as Gavin Forde stretched the Newmarket lead with his fifth point of the evening. Tullylease added a fourth point but John Lane then scored for a Newmarket side which grew in confidence as the game progressed. Gavin Forde increased his personal tally to seven with two more frees and this gave Newmarket a lead of 0-9 to 0-5 with the end of the first half approaching. Tullylease ended the half in impressive fashion. A quickly taken close in free saw Shane McAuliffe alert to the danger to divert a dangerous shot to safety. The resultant sixty five was pointed but Newmarket were not as fortunate moments later as in the next sequence of play, a long delivery was flicked to the net for an equalizing goal and in an instant, for the first time in the game, the sides were level, 0-9 to 1-6 at half time.
Newmarket made two of four telling substitutions as the very influential duo of Donal Hannon and Kevin O'Sullivan were introduced to the action for the second half. Tullylease hit the front for the only time by pointing within seconds of the second half commencing. Tony O'Keeffe was a constant threat and on his second piercing solo run in the early moments of the half, his goalbound shot was blocked but in the resulting scramble, Donal Hannon was on hand to flick to the net for a Newmarket goal. Three minutes later the roles were reversed with the same outcome. This time Donal Hannon was thwarted after a fine solo run and Tony O'Keeffe completed the task in finding the net from close range. Suddenly, after five second half minutes, Newmarket led by 2-9 to 1-7. The pace and intensity of the game increased as Tullylease rallied with a point and also a goal by the tenth minute. The game was delicately balanced throughout the half, but Newmarket showed tremendous character and resolve to keep their lead intact and dealt with the Tullylease challenge in impressive fashion. Donal Hannon pointed in spectacular fashion from close on the sideline, as the Leaving Cert student stamped his class on proceedings. Tullylease pointed a free but Newmarket grew in stature as the outstanding Ian Flanagan pointed from distance and the imposing Kevin O'Sullivan pointed outrageously from even further out the field. Tullylease added another pointed free as Newmarket entered the final quarter with a lead of 2-12 to 2-10. Gavin Forde found the target once more with another long distance free but two Tullylease points ensured a titanic struggle to the finish. The towering Kevin O'Sullivan gathered superbly and he set Ian Flanagan in possession with the midfielder on target for a second time in capping a tremendous personal display. Tullylease replied as four points were divided. Donal Hannon converted a free and Newmarket held a slender lead with five minutes remaining. Newmarket stepped closer to victory as John Lane and Jamie Hayes hit two points in quick succession. Tullylease mustered a late rally but Newmarket would not be denied and held out for a well deserved and long craved success.
Congratulations to a well drilled and talented panel of players, to their trainer John O'Connor and selectors Danny O'Flynn, Eamon Moynihan and Gerard Hannon on a notable achievement in attaining a crown last held in 1983. The club has endured several decades of devastating defeats and heartache on the hurling pitch and Newmarket GAA Club are indebted to the individuals who persevered and dedicated their time to the club during those testing times. Fitting that Danny O'Flynn, one of the clubs finest hurlers and Eamon Moynihan are involved as they have been trojan men on the field of play and in the background of Newmarket hurling throughout those years. John O'Connor has stamped his coaching, authority and telling influence with tremendous effect on the players and his role has been truly significant. Duhallow and Meelin hurling legend Neily Forrest must also be recognised and thanked for blooding so many youngsters during the previous two years and bringing a winning and successful philosophy to the club.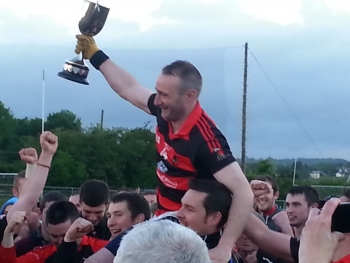 Team captain Tony O'Keeffe gratefully accepted the cup from Duhallow Board Chairman, Richard Murphy. The team were greeted back into Newmarket led by the Newmarket Pipe Band and were warmly received by appreciative supporters to celebrate a fantastic success.
The Newmarket team and scorers…
Gavin Forde (0-8), Donal Hannon (1-2), Tony O'Keeffe (1-1), John Lane (0-2), Ian Flanagan (0-2), Jonathan Flaherty (0-1), Kevin O'Sullivan (0-1), Jamie Hayes (0-1).
Shane McAuliffe
Jack Guiney
Robert Stack
Paudie Allen
Alan Ryan
John Ryan
Pa O'Brien
Gavin Forde
Ian Flanagan
Jacko Flaherty
John Scanlon
John Lane
Eddie Allen
Tony O'Keeffe
Tadhg Ryan
Subs: Donal Hannon, Kevin O'Sullivan, Nicky Flanagan, Jamie Hayes, Barry O'Leary, Colin O'Sullivan, Michael O'Leary, Niall O'Connor, Paul Verling, Eoin O'Connell, Billy Lane, Kieran Lehane, Alan Forde, Barry O'Connor, Donnacha Fitzpatrick, Daniel O'Doherty, Shane Murphy.