A typically determined and committed Newmarket display just fell short as Kerry champions Milltown Castlemaine emerged victorious with three points to spare, 1-9 to 1-6 in the Munster Intermediate Football Championship semi final played before a huge attendance, on a grey November, afternoon at the Mallow GAA Sports Complex.
Both sides tried to get the early initiative but both defences stood firm, with Newmarket led from the back by the excellent Denys O'Brien, T.J. Brosnan and Mark Reidy. A tight encounter developed before Newmarket opened the scoring in the eleventh minute. Denys O'Brien burst out from defence and found David O'Flynn with a well placed pass. As David O'Flynn surged forward, he was impeded before offloading quickly to outstanding Newmarket attacker John Lane and the vast majority of the spectators acclaimed an excellently executed point. Newmarket's advantage was short lived as Milltown Castlemaine gained parity from their resultant kick out. As the game entered the second quarter Milltown Castlemaine edged in front. Scores were at a premium, and despite enjoying a sizeable amount of possession, Newmarket failed to add to their tally despite the exploits of John Lane who was tormenting his opponents with his ball winning ability. Unfortunately, for Newmarket, failure to add on scores in this period would ultimately prove decisive. Milltown Castlemaine added their third point in the twenty third minute before two further points within a minute stretched their advantage to four points. Crucially, as the half entered the final minute of normal time, the Kerry champions surged forward with an overlap and took full advantage to slam a goal to the net for a substantial lead. Newmarket regrouped and in the dying moments of the half, on being awarded a free in, T.J. Bodie struck the first of his afternoon's points to end the half with Newmarket trailing by 1-5 to 0-2.
Newmarket resumed with the aid of a breeze and as ever their unrivalled support rallied behind their heroes. T.J. Bodie gave an exhibition of free taking and claimed his second point of the hour two minutes into the half. Newmarket pressed their opponents and as in the first half Denys O'Brien, T.J. Brosnan, Mark Reidy and John Lane were central to the sides revival. Milltown Castlemaine converted a free seven minutes into the second half but a spirited Newmarket effort, so evident throughout the year was gaining momentum. T.J. Bodie pointed for a third time before a move that epitomized Newmarket's work ethic ended with a penalty in their favour. John Lane did sensational work to dispossess a defender on the edge of the square against all the odds and the resultant passage of play involving a Kevin O'Sullivan shot at goal was foot blocked to force a penalty. Once more, as so often before, Brian O'Riordan strode up calmly from his corner back position, to dispatch a perfectly struck penalty to the bottom corner of the net past a static goalkeeper and the stand erupted in appreciation. The score now read 1-6 to 1-4 with seventeen minutes remaining. With everything to play for both sides threw every ounce of effort into the remainder of the game. Milltown Castlemaine pointed next to regain a three point lead. Newmarket swept forward but faced a packed rearguard. T.J. Bodie kicked a memorable point with nine minutes remaining and when he repeated the feat four minutes later, just a solitary point separated the sides. To the frustration of the Newmarket side they could not find an equalizer and at the other end with time closing out, Milltown Castlemaine reacted quicker to a free that struck an upright to score a vital point. As the game entered injury time they added an insurance score and the final whistle brought to an end an incredible Newmarket adventure.
True to form, the magnificent Newmarket supporters applauded and cheered the side from the pitch in appreciation of their epic achievements of 2011. A remarkable campaign of nine championship games in total that exceeded the wildest of expectations will forever be etched into the annals of history and the memory bank of all who witnessed the crusade from Macroom in May to Mallow in November. The exploits of all the players and management will be recalled and treasured for years to come by people both near and far as a spark of inspiration to all Newmarket folk.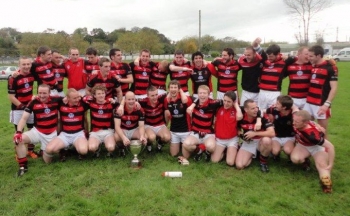 Congratulations once again to our magnificent team and management trio of Danny Culloty, Donal O'Sullivan and Danny Hourigan and at the end of a long and winding playing season they can reflect with immense pride on their exploits and what it did and meant to the parish and people of Newmarket. Who will ever forget the scenes and images of October 16th, 2011, the greatest day in the history of Newmarket GAA Club. Well done lads, enjoy the short break and more celebrations of your feats before commencing 2012 as a senior football club.
The Newmarket team and scorers…
Brian O'Riordan (1-0), T.J. Bodie (0-5), John Lane (0-1)
Niall O'Connor
Brian O'Riordan
Denys O'Brien
John Ryan
Barry O'Leary
Mark Reidy
T. J. Brosnan
Bart Daly
Colin O'Sullivan
David O'Flynn
Kevin O'Sullivan
Tony O'Keeffe
T.J. Bodie
Nicky Barrett
John Lane
Subs: Timothy Murphy, Mark Murphy.