Newmarket's junior hurlers bridged a gap of twenty seven years without silverware by claiming the Singleton Cup in style, against Millstreet in the final played at the latters venue on Saturday evening, eventually running out victors by 0-21 to 1-8.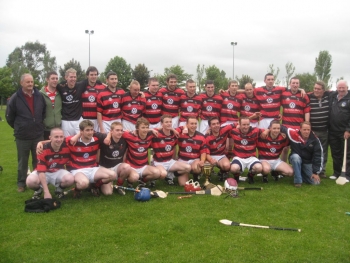 Newmarket survived an early scare and were lucky to escape as Millstreet pointed within seconds of the throw in. John Lane responded with a well taken point from play and Tony O'Keeffe followed up with an even better effort in the fourth minute. Millstreet looked threatening in the early stages and they broke through for what proved to be the games only goal in the fifth minute and an additional point increased their lead to a clear goal.
The sides then exchanged points with John Lane on target from a placed ball as Millstreet led by 1-3 to 0-3 after a lively first ten minutes. Both sides tightened up defensively at this stage, with Kevin O'Sullivan in outstanding form in defence for Newmarket throughout. A seven minute scoreless spell ended when John Lane pointed a free. This gave Newmarket a bit of momentum and he was similarly on target again three minutes later. Michael Kenneally levelled the sides for a second time on pointing in the twenty second minute and Newmarket hit the front with a fine individual effort from Donnacha O'Dea with left half back Robert Stack then adding a spectacular long range point to double the advantage. The home side finished the half in the ascendancy and two points in as many minutes had the sides level once more at the halfway point, 0-8 to 1-5.
Newmarket struggled for a while upon the restart and were sloppy in their play as Millstreet added a point in the fifth minute. Newmarket eventually settled on John Lane scoring his fifth point of the evening to once more restore parity. This spurred on Newmarket and three quick fire points followed in a three minute spell, all fine scores from John Lane and the experienced duo of Barry O'Leary and Tony O'Keeffe. Millstreet however cut the deficit to a solitary point again on getting the next two points and as the game entered the final ten minutes, Newmarket held a slender lead of 0-12 to 1-8.
Newmarket showed great spirit and desire at this stage and no shortage of skill. John Ryan scored an inspirational point from distance with Barry O'Leary, John Lane and Conor Cronin firing over points in rapid time. Newmarket sensed success and hurled with distinction in all sectors. Right half back Shane Murphy added to the collection of superb long range points, with team captain Anthony Crowley finding the target in similar vein moments later. A Newmarket side in full flow sealed a memorable success with further points on the board through a brace from John Lane and the final score of the game, fittingly an excellent long range finish from Robert Stack as Newmarket rounded off their ninth point in succession.
The final whistle was greeted with great excitement by the Newmarket supporters and panel of players who have seen numerous disappointing days out with the team over two and a half decades.  Duhallow Board Secretary, Tom Dennehy presented the silverware to Newmarket's joint captains, Anthony Crowley and Kevin O'Sullivan.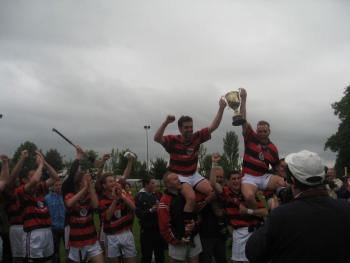 Congratulations to all the players and especially to the teams mentors, Con O'Sullivan (who has given incredible service to hurling teams in Newmarket for many years), Eamon Moynihan, Jim Fitzgerald and team coach Jerry Molyneaux on their notable and memorable achievements with a panel of players limited in numbers on several occasions.
The Newmarket team was…
 
 
 
 

Paul Verling

 
 
Niall O'Connor
 
Brendan Stack
 
Donnacha Fitzpatrick
 
 
Shane Murphy (0-1)
 
Kevin O'Sullivan
 
Robert Stack (0-2)
 
 
 
 
John Ryan (0-1)
 
John Lane (0-9)
 
 
 
Tony O'Keeffe (0-2)
 
Michael Kenneally (0-1)
 
Colin O'Sullivan
 
 
Barry O'Leary (0-2)
 
John Scanlon
 
Donnacha O'Dea (0-1)

SUBS: Anthony Crowley (0-1), Conor Cronin (0-1), Ian Flanagan.