Original Report: The Corkman, Friday, October 16th, 1998.
By John Joe Brosnan.
Newmarket qualified to meet Millstreet in the Duhallow football final, when a late goal proved crucial in their two point victory over Kanturk in a thrilling semi-final played before a big attendance (gate receipts £4,020) at Boherbue on Sunday.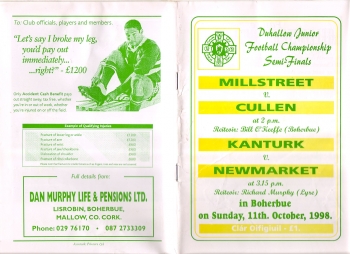 The goal came a minute before the end of normal time, when Michael Cottrell took the ball on a solo run through the Kanturk defence before giving goalkeeper Colman Lane no chance with a shot from close range.
It gave Newmarket a three point advantage with time running out, but Kanturk battled back with fierce determination and scored two points in injury time, one of which only grazed over the crossbar, before Newmarket sealed their victory with a last minute point from a free.
It was a great contest from start to finish between two superbly fit and well matched teams, with the scores being level four times and never more than three points between them at any stage.
Newmarket led by a point at half time, and were three points in front after ten minutes of the second half. But Kanturk battled back strongly and went a point in front in the 55th minute, only to be pulled back to level terms before Newmarket's late goal put them in the driving seat.
On a pitch made heavy by overnight rain, the teams found scoring diffcult in the early stages due to strong defensive play at both ends. Cathal Cronin, racing up from the half back line, had a point for Kanturk in the 2nd minute, but it was not until the end of the first quarter that Newmarket had their first score, when Mark O'Sullivan, taking a pass from John Paul O'Neill after John Cronin had initiated the move, streaked away on one of his typical runs to send a low shot to the net.
Aidan O'Keeffe pointed for Kanturk in the 18th Minute, after taking a pass from Frank Healy, and Mark O'Sullivan responded with a Newmarket point from a free, before Kanturk got a huge boost when they went through for a goal in the 24th minute.
That score came from Frank Healy, who turned on a burst of speed to run through the Newmarket defence after having been sent away by Alan Buckley, who had secured possession from a well judged pass from Dave O'Riordan.
Mark O'Sullivan brought Newmarket level, when he pointed in the 25th minute, having gained possession from a long ball by Danny Culloty, and Jerry McCarthy added another point, before Timothy Healy sent a high ball over the bar to bring Kanturk level in the 28th minute.
It looked as if the teams would go in level at the break, but just before the half time whistle, Newmarket surged forward and Danny Culloty shot a point to make it 1-4 to 1-3 in their favour, facing the second half.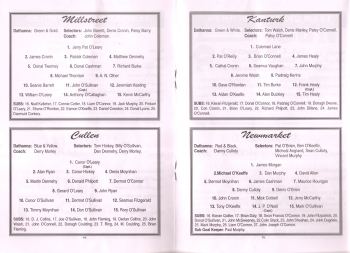 The exchanges in the first half suggested that it would be a battle all the way to the line for a place in the final, for the teams were well matched in all sectors and were playing with fierce determination.
Newmarket got off to a good start to the second half, when Mark O'Sullivan pointed a free within a minute, but three minutes later, Kanturk responded when Timothy Healy pointed after taking a pass from Aidan O'Keeffe, the move starting after good work at midfield by Jerome Walsh.
The next two points were scored by Newmarket to put them three in front. The first came when John Cronin made a good burst from the half forward line before sending over and the second from a good move started by Tony O'Keeffe, continued by Denis O'Brien and finished by Michael Cottrell, who took the final pass.
A three point lead 1-7 to 1-4 after ten minutes of the second half seemed significant enough considering the strength of the defences and the difficulty of getting scores, not least because of a crosswind which affected shooting.
Certainly, if Newmarket had gone further ahead at that stage, Kanturk would have been in serious trouble, but that did not happen because Kanturk stepped up their performance and it was they who were on the attack for a considerable period.
They reaped the benefit with four points without reply, two from Timothy Healy and one each from Donagh Duane and Dave O'Riordan to go a point in front with five minutes to go.
They looked the more likely side to win at that stage, for they were putting severe pressure on the Newmarket backs, but in a raid upfield, Newmarket snatched the equaliser, when Jerry McCarthy pointed after getting possession from Michael Cottrell.
Then, from a throw in on the sideline, Newmarket launched the move that ended with the match winning goal.
Danny Culloty won the ball from the throw in, held it despite intense pressure and kicked it forward. Mark O'Sullivan tapped it on to the inrushing Michael Cottrell, and he took it a long distance before blazing it to the net.
Kanturk's response was immediate. They got the ball down the field quickly and Aidan O'Keeffe shot for a goal, but the ball grazed over the bar instead. Continuing to play with great urgency, and with excitement at a high level as the game went into injury time, they won a free which Timothy Healy pointed to close the margin to the minimum.
But Newmarket refused to give further ground, and just before the end, Mark O'Sullivan pointed a free to clinch his team's place in the final.
The match was played on 11th of October in Boherbue, Final score was Newmarket 2-09 to Kanturk 1-10. The team on the day was as follows:
 
 
 
 
James Morgan
 
 
Michael O'Keeffe
 
Dan Murphy
 
Kieran Quilter
 
 
Dermot Moynihan
 
James Cashman
 
Maurice Hourigan
 
 
 
 
Danny Culloty (0-1)
 
Denys O'Brien
 
 
 
John Cronin (0-1)
 
Michael Cottrell (1-1)
 
Jerry McCarthy (0-2)
 
 
John Fitzpatrick
 
John Paul O'Neill Capt.
 
Mark O'Sullivan (1-4, 0-3 frees)
Subs: David Allen for Kieran Quilter, Tony O'Keeffe for John Fitzpatrick, Paul Murphy for James Morgan
Kanturk: C Lane, P O'Reilly, B O Connell. J Healy, C Cronin. S Vaughan, J Murphv, J Walsh, P Kearns, D O'Riordan, T Burke, F Healy, A O'Keeffe, A Buckley, T Healy. Subs; D O'Connell for J Murphy, D Duane for P Kearns.
Scorers for Kanturk: T Healy 0-5 (0-1 free), F Healy 1-0, A O'Keeffe 0-2, C Cronin, D Duane, D O'Riordan 0-1 each.
Referee: Richard Murphy, Lyre.