Original Report: The Corkman, Friday, October 22nd, 1993.
By John Joe Brosnan.
Newmarket always in control in tough game against Passage
NEWMARKET survived their first hurdle in the county junior football championship in impressive style at Mourneabbey on Sunday when they had seven points to spare over Passage, the Seandún champions, in a game that never generated any great excitement.
That was due mainly to the fact that there were no moments of high drama or swings of fortune during the game. Newmarket took control early on and, although forced to fight hard all through to maintain the upper hand, never really looked like being caught.
At half time the Duhallow champions led by 0-7 to 0-4 and when they pushed their lead to six points in the third quarter they looked reasonably secure. There was some unease among their supporters for a while when Passage had the margin down to four points with five minute remaining, but then Newmarket moved into top gear and shot three points without reply in the last few minutes.
It was a tough, competitive game in which the tackling was quite hard at times and no ball was easily won. Certainly it was a test that Newmarket will be glad to have behind them as they await the winners of the game between the Muskerry and Carbery titleholders in the semi-final.
Played before a big attendance, the game started with Newmarket winning a free when Neily McCarthy was fouled as he burst forward from the throw-in. Taking the free himself, he kicked from the hand and sent the ball over the bar for the opening score.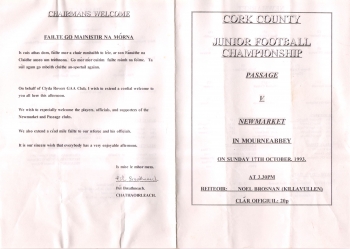 Newmarket dominated the play in the opening minutes but the Passage backs defended strongy and then, in one of their first forays upfield, they had the equalising point from midfielder Kieran Harrington, who ran on to a pass from Terry Howard.
By the end of the first quarter Newmarket had pushed three points in front with points from Michael Cottrell (from an acute angle), two from Mark O'Sullivan and one from a free by John Sheehan, to a Passage point from Greg Murphy.
It is an indication of the trend of the game that in the first fifteen minutes Newmarket had six wides, as well as scoring five points, while Passage got two points from their only shots at goal during the period.
The main reason for Newmarket's supremacy was the strong play of midfielders Danny Culloty and Neily McCarthy and half-backs Liam O Connor, John Paul O Neill and Tommy Browne. Between them they ensured that Passage had a very difficult job in trying to get the ball upfield, and when they did the Newmarket full-back line was not found wanting.
However, the second quarter saw Passage coming much more into the game, with Paul Maxwell and Kieran Harrington-especially after they switched places-starting to win good ball at midfield and the forwards forwards beginning to make an impression as they got more possession, with Paul Coughlan showing a fine turn of speed on goal ward runs.
One of Passage's problems was that they found it hard to break through the centre and often found themselves pushed well out to the corner and then tried to work their way through. But, while their first point by Kevin Harrington came from such a move, they found it hard to repeat it.
Kevin O'Brien had Passage's third point in the 18th minute but this was followed two minutes later with a Newmarket point by Tom Doherty that came as a result of a movement that spanned the field, starting With a run by full-back Sean Culloty and also involving his brother Danny amd John Hartnett.
It was 20 minutes before Passage had their first wide, and it was a very disappointing one for them when Kevtn O'Brien failed to send over from a close-in free. Two other wider followed for them before Paul Coughlan had a point, to which John Sheehan repied With a point after a good move started by Niall O'Callaghan and involving Tom Doherty and Mark O'Sullivan.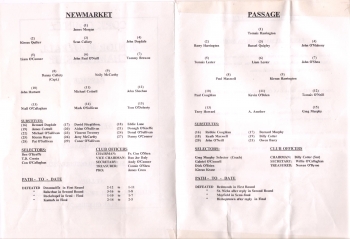 That left Newmarket leading by 0-7 to 0-4 at the interval and the general opinion was that they deserved to be further ahead on the run of the play.
Newmarket started the second half in promising fashion, with Michael Cottrell setting up Tom Doherty for a good point within two minutes. John Sheehan added a point from a free three minutes later and in the 44th minute Danny Culloty kicked a great point from an acute angle after taking the ball forward.
Passage had also tried hard for scores during this period but found it very hard to get through the Newmarket backs and, being forced to kick hurriedly when they got within range, had wides from Greg Murphy, Paul Coughlan and Kevin O'Brien in a five minutes spell during which they fougnt hard to make an impact.
It was not until the 50th minute that Passage had their first score of the second half when Robbie Couglan pointed and Paul Maxwell followed with another point three minutes later. That reduced the margin to four points and an element of concern crept in among Newmarket's big following.
It was short lived, however, for further progress by Passage was impeded, not least by a few great block down efforts by John Paul O Neill at contre half-back and some fine interceptions by Sean Culloty at full back.
And with the Newmarket defence generally and goalkeeper James Morgan playing soundly, and midfielders Culloty and McCarthy taking a firm hand in that region, the Duhallow side pushed ahead to control the play in the last five minutes, with John Sheehan (free), Mark O'Sullivan and Michael Cottrell sending over points that made them comfortable winners.
The match was played on 17th of October in Mourneabbey, Final score was Newmarket 0-13 to Passage 0-06. The team on the day was as follows:
James Morgan
Kieran Quilter
Sean Culloty
John Dugdale
Liam O'Connor
John Paul O'Neill
Tommy Browne
Danny Culloty (0-1)
Neily McCarthy (0-1)
John Hartnett
Michael Cottrell (0-2)
John Sheehan (0-4)
Niall O'Callaghan
Mark O'Sullivan (0-3)
Tom Doherty (0-2)
SUBS: Eddie Lane
Passage: T Harrington,  B Harrtington, R Quigley, J O'Mahony, T lester, L Lester,  J O'Shea, P Maxwell, K Harrington, P Coughlan, T O'Neill, R Coughlan, T Howard, K O'Brien, G Murphy.
Scorers for Passage: K Harrington, G Murphy, K O'Brien, P Coughlan, R Coughlan, P Maxwell (0-1) each.
Referee: Noel Brosnan, Killavullen.